I have a friend that is CUCKOO for COCONUT! She uses coconut oil on EVERYTHING! She uses it as a skin moisturizer, she puts it in her smoothies, she puts it in her hair, and she is ALWAYS talking about how wonderful it is!
You know me, this got me digging into some research on coconut oil! After purchasing some and using it as a skin moisturizer, and in my cooking, I found that there are also multiple other uses and benefits to it!
Health Benefits of Coconut Oil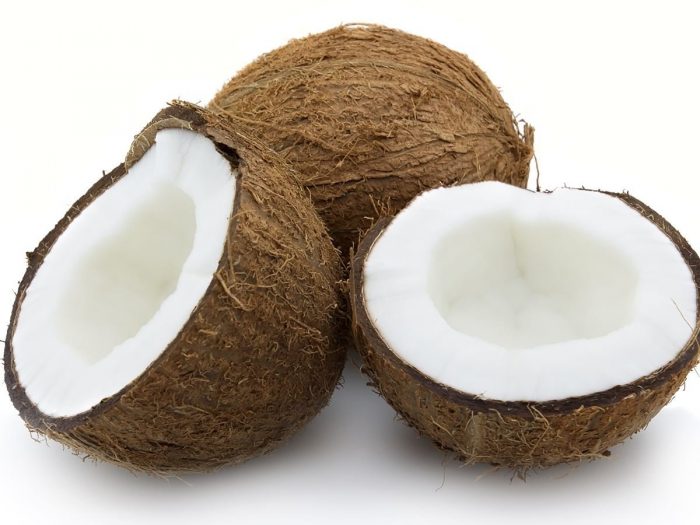 The health benefits of coconut oil include hair care, skin care, stress relief, cholesterol level maintenance, weight loss, boosted immune system, proper digestion and regulated metabolism. It also provides relief from kidney problems, heart diseases, high blood pressure, diabetes, HIV, and cancer, while helping to improve dental quality and bone strength. These benefits of oil can be attributed to the presence of lauric acid, capric acid and caprylic acid, and their respective properties, such as antimicrobial, antioxidant, anti-fungal, antibacterial and soothing qualities.
Hair care
Coconut oil is one of the best natural nutrients for your hair. It helps in healthy growth of hair and gives your hair a shiny quality. A
pply coconut oil on your hair every day after bathing or showering. It is an excellent conditioner and helps the re-growth process of damaged hair.
Coconut oil also helps to make your scalp free of dandruff, even if your scalp is chronically dry. Not to mention, it helps to rid your scalp of lice!
Skin care
Coconut oil is an excellent massage oil for the skin as well. It acts as an effective moisturizer on all types of skin, including dry skin. It also delays the appearance of wrinkles and sagging of skin.
Weight loss
This is my favorite! Coconut Oil contains short and medium-chain fatty acids that help in taking off excess fat. It is also easy to digest and it helps in healthy functioning of the thyroid and endocrine system. Further, it increases the body's metabolic rate by removing stress on the pancreas, thereby burning more energy and helping obese and overweight people lose the weight.
Digestion
Internal functions of coconut oil occur primarily due to it being used as cooking oil. Coconut oil helps to improve the digestive system and thus prevents various stomach and digestion-related problems including Irritable Bowel Syndrome. The saturated fats present in coconut oil have antimicrobial properties and help in dealing with various bacteria, fungi, and parasites that can cause indigestion.

Immunity
Coconut oil is also good for the immune system. It strengthens the immune system because it contains antimicrobial lipids, lauric acid, capric acid and caprylic acid which have

antifungal

, antibacterial and antiviral properties. The human body converts lauric acid into

monolaurin

which research has supported as an effective way to deal with viruses and bacteria that cause diseases like herpes, influenza,

cytomegalovirus

, and even
HIV
.
Candida
Coconut has been shown to prevent and even cure candida. It provides relief from the inflammation caused by candida, both externally and internally. Its high moisture retaining capacity keeps the skin from cracking or peeling off.
FAQ's About Coconut Oil
Why is coconut oil solid?:
Unlike most other oils, coconut oil has a high melting point – about 24 to 25

degrees

Celsius

or 76-78

Fahrenheit.

Therefore it is solid at room temperature and melts only when the temperature rises considerably. Hence, if you buy a bottle of coconut oil and find it solid, don't immediately assume that there is some problem with it. Coconut oil is often in this form, and obviously, don't keep it in your refrigerator.
How to use coconut oil?: If you are using coconut oil for topical purposes, especially hair care, just melt the oil (if it is solid) by keeping the bottle in the sun or soaking it in warm water. You can also take some coconut oil out and put it in a small bowl and heat the bowl over a flame (don't use a microwave). Then, take the oil on your palm and apply it to your hair. If you want to use it for internal consumption, simply replace butter or vegetable oils with coconut oil in your recipes. Remember, you don't need to completely switch to coconut oil, because then you will lose the other benefits of more traditional oils and dairy products.


Can I use coconut oil for cooking?: Yes, in most of the tropical coastal regions, people use coconut oil for cooking.


I don't like the taste of coconut oil. What should I do?:
Try using coconut oil in a variety of different recipes. However, if you get nauseated after eating coconut oil, don't force yourself to eat it. As can happen with any food item, your body may be allergic to coconut oil and it is best not to consume it.
What kind should I buy?
There are primarily 6 varieties of coconut oil that you will find on the market. These are pure coconut oil, refined coconut oil, organic coconut oil, virgin coconut oil, organic virgin coconut oil and extra virgin coconut oil. I buy the Organic Pure Coconut Oil that has been cold pressed. Well known brands such as Nutiva, Natures Way, and Barleans are all great oils! The best price that I have found so far is actually at my local Costco!
How do I store Coconut Oil? Keep it in a cool place, but NOT in the fridge. It is fine if it doesn't stay solid as well. Here in Arizona, I just keep my in my pantry. Keeping it sealed or lidded is necessary because there are other admirers of coconut oil (ants, cockroaches, other insects and rodents just love it!).


There you have it! My kids HATE the smell! But, I will say that I love the way that it makes my skin feel! I brush a little on my shrimp or fish and it is delicious! Plus, I also add a TSP or so into my smoothie. Yum Yum!



Sources of Information:
Reports of Coconut Development Board of India,
Reports of KERAFED.
Text books of various courses of agriculture.