Oh so yummy!!! ( I stole this recipe and picture from here.) BUT, as always, I made some changes. We don't like things too spicy, so below is the way that I make it.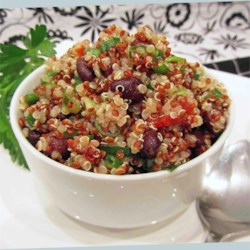 INGREDIENTS:

1 cup quinoa
2 cups water
1/4 cup extra-virgin olive oil
1 1/2 limes, juiced (or 2 if you like.)
2 teaspoons ground cumin
1 teaspoon salt
1 large garlic clove (pressed)
1 1/2 cups halved cherry tomatoes
1 (15 ounce) can black or garbanzo beans, drained
and rinsed
5 green onions, finely chopped
1 small, chopped avacado
1/3 cup chopped fresh cilantro
salt and ground black pepper to taste
1/3 C chopped walnuts (optional)

DIRECTIONS:
1. Bring quinoa and water to a boil in a saucepan. Reduce heat to medium-low, cover, and simmer until quinoa is tender and water has been absorbed, 10 to 15 minutes. Set aside to cool.
2. Whisk olive oil, lime juice, cumin, garlic, and 1 teaspoon salt together in a bowl.
3. Combine quinoa, tomatoes, black beans, walnuts, avacado and green onions together in a bowl. Pour dressing over quinoa mixture; toss to coat. Stir in cilantro; season with salt and black pepper. Serve immediately or chill in refrigerator.